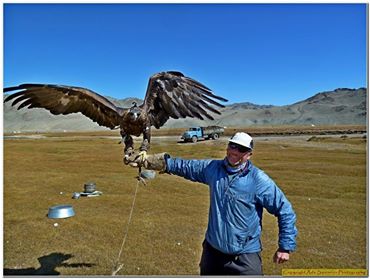 About Me
Adrian (Ade) Summers
Expedition Leader, Mountain Guide, Trekking Guide, Sea Kayaking Guide,
Mountain Biking Guide, Tour Guide, Photographer, Traveller and Adventure Travel Tourism Consultant and Trainer..
Profile
Expedition Leader, Mountain Guide, Trekking Guide, Sea Kayaking Guide, Mountain Biking Guide, Tour Guide, Photographer, Traveller and Adventure Travel Tourism Consultant and Trainer.
I was born and grew up in Wales but now calls Australia home. As a freelance guide I work for a number of leading adventure travel companies. Mainly British, but also Australian and American. When I am not working or pursuing my own interests. I live in Sydney where I enjoy canyoning, sea kayaking and the Sydney lifestyle. I am a very keen photographer and enjoy giving slide shows and talks.
I have Climbed, Trekked, Traveled on all 7 continents.
Highlights
Expedition Leader for first commercial trek in many years the Wakhan Corridor in Afghanistan.
Now 6 expeditions to the Wakhan.

Expedition Leader for first commercial Climb of Mount Halgort in Iraqi Kurdistan.

14 Month overland trip from Cardiff (Wales) to Sydney (Australia) without flying.


Trekking the Frozen Zanskar river. "The Chadar Trek"




Summiting Aconcagua twice back to back

Leading the first successful summit of Mukot Peak in Dolpo Nepal.

Working as a mountain guide and working in the new and developing travel industry in Mongolia

Working in Northern Pakistan with awesome mountains and fantastic people


Just being in the mountains, especially the Himalayas, Karakorum and Hindu Kush.




Training local leaders in Mongolia, Pakistan, India and Nepal.

Climbed, Trekked and Traveled on all 7 Continents

Leading a charity trek of Welsh and US musicians to Everest BC and a concert on Kala Pattar and Durbar Square. Leading a second trek in 2012.

Doing Slide shows and talks to raise money for a street kids centre in Ulaanbaatar Mongolia.
Climbing in Antarctica.

Being Vote Leader of the year 2012 for leading UK adventure company KE Adventure
Mountaineering Expeditions Lead
Nepal

Mera Peak climb 16 times & 13 summits.

Mera, Amphu Labsta Island Peak 4 times
Island peak 6 times
Ramdung & Parchemo
Khumbu 3 Peaks 2 times
Chulu East and Far East 3 times
Tent Peak (Thurpa Chuli) x 2
Naya Kanga (Ganjala Chuli)
Nirekha Peak 6183m
Tabsar Peak Tsum Valley
Mera to Rolwaling Transerve. 3 x 6000m peaks and 6 5000m Passes
Mukot Peak Dolpo

Mongolia

Khutien 16 times 11 summits
Naradal and Mulchin many times
Snow Church
Kharahara 2 times

Ethiopia

Mount Ras Deshan

Pakistan

Gondogoro La 7 times
Snow Lake Hispar La 3 times
Grand Karakorum Transverse – Hushe to Hunza
Spantik
Workman's Peak

Bolivia

Huayna Potosi
Bolivia Climber

Pequeño Alpamayo
Huayna Potosi
Illimani

Acontanga

Argentina

Aconcagua 2 times back to back

Kurdistan Iraq

Halgurt. Highest Peak, and first commerical group Summit

India

Stok Khangri - Ladakh x3
Yalung Nong - Ladakh x2
Kalinda Khal - Garwhal x2

Trekking the Frozen Zanskar river. "The Chadar Trek" x3

Panpati Col - Garwhala

Antarctica (as a client)

3 Virgin peaks on the Peninsula
A few ice burgs

Uganda

Mount Stanley and Baker

Morocco

Jebel Toukal 5 times

Kyrgyzstan

Peak Lenin (No Summit)
Trekking Trips Lead
Nepal

Everest BC multiple times, various combinations of passes (cho la, Renjo la etc)
Dhalagiri Circuit (French and Dampus Passes) 5 times
Khanchenjunga x3
Naa Phu Valleys
Dolpo Circuit
Dolpo to Jomson x 3
Annapurnna Circuit (various combination (including Annapurnna sanctuary)
Upper Mustang
Upper Dolpo to Jomson x 4
Rowaling
Naar – Mustang via Teri La x2
Makalu BC
Rupina La, Tsum Valley, Manasulu Circuit
Tsum Valley
Annapurna BC and Mardi Himal
Manasulu Circuit
Number of Charity treks (see below for www links)
Lower Dolpo to Jomson via Mu la, Reccie.

Tibet

Everest BC north side


Middle East

Oman - Jabal Akhdar region

Pakistan

K2 BC 7 times
Many Small Treks around Hunza Shimshal, Chitral.
Pokora and Asumbar Pass Reccie trek in Iskomen Valley.

Bhutan

Chomolhari Trek via the Yale La
Chomolhari Trek via Bonte la
Laya Trek

Morocco

Atlas Mountains Treks 6 trips

Central Asia

Treks in the Pamirs of Tajikistan

USA

The John Muir Trail

Mongolia

Altai Tavan Bogd
Kharahira mountains
Hovsgol Lake

Tajikistan

Fann Mountains x 5

Iran

India

Markhal Valley – Ladakh
Zankar Valley Trek and Raft – Ladakh
Dharamsala

Afghanistan

Wakhan Corridor x 7

Ethiopia

Simian Mountains

Bolivia

Cordillera Real Traverse x 4

Corsica

GR 20

Central Asia

Treks in the Tien Shan in China and Kazakhstan and Kyrgyzstan

Uganda

Peru

Choquequirao Trek and Machu Picchu
Other General Travel Trips
Independent Trips

Overland from Wales (UK) to Sydney Aus without flying 1995
Overland back to Aus from Pakistan to Singapore
Overland from Singapore to Wales (UK) 1999
Multiple independent trips to over 75 countries. Mainly Asia, Middle East and Africa

Tour Guiding Trips

Central Asia Action Adventure
Silk Road Odyssey
Sea Kayaking Trips in Thailand
Sea Kayaking trips is Sydney Aus.
Tibet Tour
MTB Trips to Mymamar(Burma)
MTB Trips to Mongolia
MTB Trips to Cambodia
Gobi Desert Adventure
Many Tours in Mongolia
Mountain Biking and Sea Kayaking in Thailand
Sea Kayaking in the Gulf Island BC Canada
Loas - Cycling Kayak Tour

General

Multiple SE Asia sea kayaking, climbing and travel
Mongolia China and Central Asia Travel
West and North Africa travel trips
Middle East trekking climbing and travel
Europe – Inter-rail around West and Eastern Europe before the Berlin wall came down
Outdoor / Travel Industry Work Experience
Mongolia

Local Mountain and Trekking Guide in Western Mongolia
Operations Manager for local adventure company

Australia

Mountain Designs – Outdoor Retail
Sea Kayaking Guide
Canyon Leader for friends and outdoor clubs

The World

Freelance Guide / Expedition Leader
Adventure travel consultant for a number of adventure travel companies.
Training for local leaders in Mongolia, Nepal, India and Pakistan.
Links
| | |
| --- | --- |
| My Websites | Companies I work for websites |
My Bio on companies I work for websites
Outdoor Training and Qualifications

February 2016

Wilderness First Aid Certificate


March 2012

Wilderness First Aid Certificate


June 2009 Wilderness First Aid Certificate
January 2009 Senior first Aid and Remote First Aid Certificate - Saint Johns Ambulance
February 2006 Senior first Aid and Remote First Aid Certificate - Saint Johns Ambulance
February 2004 Outdoor Mountain Leaders Course – Certificate IV TAFE South Australia
February 2004 Australian School of Mountaineering - Canyoning leadership & Improvised Rope Rescue
June 2003 Outdoor Recreation Leaders Course – Certificate IV TAFE South Australia
May 2003 Flat Water Guide - Canoe Australia - Ocean Planet
May 2003 senior first Aid and Remote First Aid Certificate - Saint Johns Ambulance
November 2002 Australian School of Mountaineering - Improvised Rope Rescue Techniques
January 2002 Ocean Planet - Level 3 Sea kayak Skills
September 2001 Ocean Planet - Level 2 Sea kayak Skills
June 2001 Ocean Planet - Level 1 Sea kayak Skills
February 2001 Australian School of Mountaineering - Canyoning leadership.

Education

1986 - 1990
Thames Polytechnic (Greenwich University)
BSc(Hons) Computers & Communication Systems (2:2)
London UK

1985 - 1986
Gwent College of Higher Education
BEng Instrumentation Systems Engineering
Newport, Wales, UK

References

Tim Nicholl

KE Adventue Travel
32 Lake
Keswick
Cumbria CA12 5DQ
UK
Office Tel: +44 (0)17687 73966
Timn@keadventure.com
www.keadventure.com

Roland Hunter

The Mountain Company


108 Crowborough Road




Tooting




London




SW17 9QG




United Kingdom


Office Tel: +44 (0) 207 0187031
roland@themountaincompany.com
www.themountaincompany.com

Tom Bodkin

Secret Compass




UK




Office

Tel: +44 (0)20 3239 8038 (UK)
+1 347 6900182 (US)
info@secretcompass.com


www

.secretcompass.com
---
CV Updated 27th November 2017